To Find an awesome partner
for new ways of dropshipping hammocks
How could you invest $350, then turn it into $2950 in one moth, even in one day ,and continious to have benefits forever ? It is what we can do for the help.
It is a business not for resell, not for a disposale, not for our brand huilang.
but for your own brand, to have your name on the markets forever.
For now, Huilang only approved the market area of partner for this project is UNITED STATE.  
After one year successful dropshipping testing with our partner Nakie in Australia, we found that the business model could make every partner to be close to be successful. And we would like to see more people who has the same vaule with us to be the person he or she wants to.
Please kindly notice that :  If you could meet one of the following conditions, you could apply to be our partner, or the project will fail and cause lose. 
1. you are good at marketing, (google ads, social marketing etc. )
2. you have been in the business lines of outfitters for years, already having something related camping for sale.
3.  you are a camping expert, and have thousands of fans.
4.  you are a freshman in marketing and outfitters, but you consider to set up your own brand business, and does not care how long the business can pay back to you, insisting on your projects whatever happened.
How does the project work ?
We have selected the most popular hammocks for the US market, with good quality, and the easiest to be sold out. We don't limit how much you sell, the US cottage supplier and brands sell the same design hammocks over $100, we suggest that you can aim the price at $59 to get fast and more sellings.
Let's see what is the process. 
choose the fabric color  ( we have 34 colors optional for this project)
send us your brand logo
 make out the sample
confirm the production
 you could prepare your marketing (website, photos taken, ads preparing)
Production finish (we will storage your hammocks in our warehouse)
 Starting your marketing
send us your order list per day
 We package and delivery it directly to the buyer.
( if not for urgent delivery, we will choose the e-packet cost $12.5 to USA, if for urgent delivery, will delivery by fedex express, $18 per hammock  to USA )
The MOQ is 50 pieces per color. It means you can start 50 pieces as first try in one color.
Hammock fabric has 34 colors option, bug net has grey and black color.
Sample charge, sample we charge $60 with shipping cost to your door.
Initial payments for production, 50 % of the total vaule
Balance payment : 30 days after production finished, you could get sales from the 30 days, then pay us.
 Express logistics delivery fee, We usual settle accounts paid by month. For example, if you have 10 orders in Nov. and 15 orders in Dec. Then you need to pay the logistics cost in early of Dec for that 10 orders, and pay 15 orders logostic costs in Jan.
Let's take 50 pieces as an example
if you sell out 50 pieces at $59 , then the total sale vaule is $2950
The cost is  $12 (hammock cost ) + $12.5 (delivery cost ) +$5 (ads)
$60 + 12*50 +12.5*50 +5*50=$1535
You win $2950-1535= $1415
And truely you could see, what you get it is not only $1415 !!!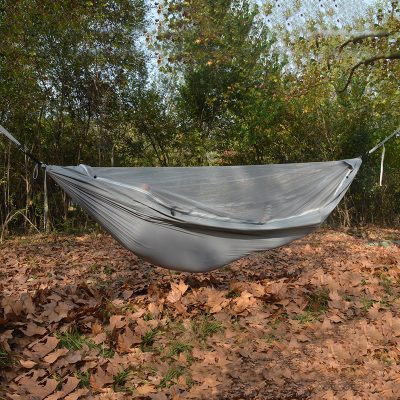 Size : 330* 147 cm
Material : 210 T 70 D ripstop diamond nylon
Bug Net : high strength ripstop and dense net polyester
intergrated design, and bug net could be totally zipped off if needed.
Straps : Polyester 305 cm length, 15+1 loops, loading 600 lbs
Carabiner : Aluminium Wiregate 5 KN
Hammock safty loading weight : 300 KG
Whole set weight : 0.95 KG
Logo : woven patch on stuff bag and straps. 
If you have any question, please feel free to send us an email
info@huilangfactory.com