cost-performance camping hammocks' supplier.
Taihe Huilang Outdoor is a factory in China that mainly producing nylon camping hammocks and related gears.
We are now being the most rapidly growing company in the camping gear industry.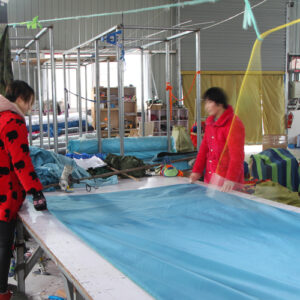 In this article, we will introduce you to five aspects of hammock purchasing, they are:
the selection of the right suppliers,  how to clarify hammock specifications,  price calculated, sample approval,  placing PO, and how to measure and control the hammock quality of your orders.
1. Find The Right Hammock Manufacturers & Suppliers
There are hundreds of manufactures and companies in China doing the export business of camping hammocks,  but you must take in mind that just a few of them could fit you and your business.
When you consider finding a new partner, you should get the answers to the following questions: 
a. what are their main products ?
b.  where are their main markets? and who are their key customers?
c.  the top three products they sold last 2 years, and what are their average prices?
d. how many workers they have? how many administrators? how many inspectors? and what are their main machines and how many quantities?
e. the last year's annual sales?  and totally quantity they sold?
f. average production capacity per month? when is the slack season and busy season? what is the production quantity in slack season and busy season?
g. request them to send you the pictures of their office, factory gate door, factory workshop, and machines.
After getting the answers to the above questions, you definitely could have a clear mind of the capacity of your manufacturers, and you are able to have preliminary lists to select " the right manufactures".
Click the left ''plus'' icon to get the hidden content
2. Clarify Hammock Details & Specifications
Hammock Size
Single  Hammock: 270*140 cm
Double  Hammock: 300 *200 cm
Jungle Hammock:335 * 147 cm (11 ft hammocks)
You can always custom the size of the hammock, however, please take in mind that normally nylon fabric usage width is 147 cm
Once you decide to make a customized size hammock, you need to do a careful calculation of the fabric width, to avoid wastages.
For example:
currently,  the single hammock (270-140 cm) in three-panel designs, each width of the panel is 34-72-34 cm (finished size), the fabric cutting width for each panel is 36.5- 73.5-36.5 cm.
the losing width is 2.5 cm on each trim panel for the overlocked edge and middle three stitching lines.
This fabric cutting wide size design is good at avoiding wastages, you see:
for the trim panel, it is 147/36.5 = 4 panels,
for the middle bottom panel: it is 147/73.5 = 2 panels.
so it would be easy for you now to calculate the double size hammocks (300-200 cm ) for each panel width.
And you are wiser enough now to save costs for customized size hammocks.
Is it possible for you to custom the width of nylon fabric in 160 cm, 180 cm, 200 cm width?
Yes, the answer is yes, however, you need to buy a large quantity of fabric per time as 2000 meters.
Hammock Materials
There are different options for hammock fabric materials: 70d nylon, 40d nylon, 20d nylon, even polyester, etc.
To understand the fabric material faster, you should know the denier and tex, and the weight of square meter, what's more, for using outdoor, if you have the colorfastness rating level, it could be better.
For example the most sale nylon camping hammock in the market,  the fabric is 210 T 70d nylon, 68 GSM,  colorfastness  3-4 level.
Hammock Color
Every supplier would have some regularly used fabric in stock, so those fabrics could be supplied without MOQ.
Definitely, you could make your own customized color based on Pantone color, and no doubt, a customized color fabric needs MOQ 1800 meters ( around 600 hammocks).
Hammock Carabiner
Generally,there are three styles of carabiners used for hammocks :
A:8 shape  white galvanized steel – 5 KN loading capacity
B: black steel D shape carabiner- 12 Kn loading capacity
C: aluminum wire gate carabiner – 5 KN loading capacity
Price: A <B < C
Stuff Sack
You might do some research of the market, and know the designs of your hammock stuff sack, or you could ask your hammock suppliers to offer examples of the current stuff sack they do the best.
Hangtag & Care Labels
hangtag attached to your camping hammocks that includes information about your brand, the hammock fabric, and material used, the model number and size, care instructions, social media, or the price, et
Please click the below link to know more about the hangtag
3. Calculate The Landed Cost and Place The Sample Order
And yes, now you have a completed hammock specification list confirmed one by one with details,  and you could imagine what kind of hammock you would put into production, so calculating your quantity and get the quotes.
You could ask any of your suppliers to offer the FOB costs. And do not forget to ask your suppliers to tell the seaport they are exporting.
Your landed cost would be FOB cost + sea shipping costs + importing customs duty + inland delivery costs.
Once you think you could benefit from this project, you could place the sample orders to those suppliers.
It is important that you should ask all of those Preliminarily selected suppliers to make the same specification sample. You could get perceive their services and capacity in the sampling process.
4. Identify Your Final Purchasing Order
after the sampling process, and you could get to know who would be the best one to produce your orders.
However, do not be relaxed, it is only halfway.
What you need to do now, to make a paper document to list all the specifications of your order, the more detailed, the better, and ask the supplier to sign back to you.
not just to place a simple PO with quantity and price, but a purchasing contract with all details related to the hammocks.
Absolutely, the contract should include the price term (Fob, ex-factory, CIF, etc), the seaport name, delivery time,  payment term, quality rule, etc.
5. Measurement of The Quality in All Production Journey.
If you want things under control, and the results are not out of your imagination, you should act to measurement the process.
I think you do not wish to get your hammocks of inferior-quality, and you do not like to be delivered a month later.
So, first of all, you should have a golden PP sample (pre-production sample) at hand to be set up as the golden standard for quality.
Second,you need to know every step of your order's production, when does the material arrive, how are their quality?
Do you get the report and pictures for the semi-finished products?
Do you get the mass production samples and third-party inspection report?
The measurements flow should be
Materials- semi-finished – mass production samples – final inspection
Then you could sleep at ease.